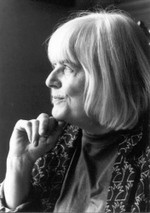 De eamelder
In eamelder roun to eameljen
lâns de wylde, wylde sé.
"Hwat hie ik," eamele 'er sêftkes
"in sin oan in bakje thé."
Doe seach er in wite treppot
dy stie op it wiete strân,
hy hie porsleinen poatsjes
en wonk him mei de hân.
De pot bigoun to skinken,
(hy hie de thé al klear)
de eamelder stie to drinken
en eamele net mear.
Diet Huber (spiegel – PDF) | De Teltsjebeam
Frysk
Kunsdt
No sa. En net oars.
Weemoed & Melancholie