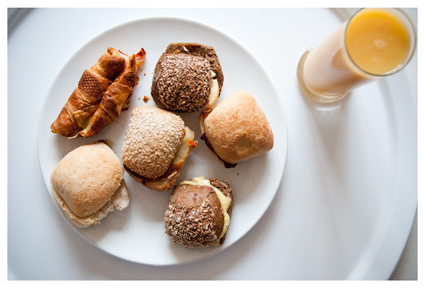 Een uitgebreide sortie van 'vers afgebakken' brunchbroodjes uit de oven belegd met o.a. geitenkaas, spinata romana en rauwe ham (AH). Afgeblust met 'vers geperst' fruit (sinaasappel/banaan; idem AH).
Geheel in 't Licht van de Paasgedachte (opstanding, vrede op aard', blabla) wordt één en ander visueel ondersteund door een belegen remake van George A. Romero's Dawn of the Dead. Zie hier de ingrediënten van des eamel's Paasbrunch 2010.
Als de berg niet naar Mozes komt dan.. nou, dan maar niet.
Beeld
Cool
Hoera!
Mea culpa
Sfeer en sa
Weemoed & Melancholie