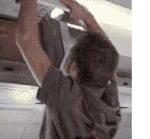 Broer over de vloer. Of ik zo vriendelijk wil zijn hem de volgende dag (da's vandaag; zondag) even naar het altijd gemoedelijke Zestienhoven ("Rotterdam The Hague Airport") wil brengen op een ongristelijke tijd.
Want broer heeft het hele jaar vakantie, slechts hinderlijk onderbroken door datgene wat zijn Bourgondische leven financiert: werk. Deze week is Spanje aan de beurt.
Omdat ik sinds achttien jaar geen vliegveld meer van dichtbij heb gezien -laat staan een vliegtuig- een uitgelezen moment om de camera weer eens uit de spreekwoordelijke mottenballen te vissen. Niet erg spectaculair, zeker niet voor jou, maar alleraardigst om over een paar jaar weer eens terug te zien.
Enfin; 2 saucijzenbroodjes+2 koffie à €10,50, een ietwat dikkige, bijdehante mevrouw ("Foto's? Voor wat? Whalehunting?") en teveel parkeergeld verder is broer weggezet -de hufter- en ga ik mijn 19e non-vakantiejaar in*.
Gelukkig hebben we de foto's nog.
Van een vliegveld.

*Zelfmedelijden? Welnéé. 't Is 'm van harte gegund. Hij werkt er tenslotte hard genoeg voor.
Beeld
Cool
Famylje
Kunsdt
Op stap
Sfeer en sa
Weemoed & Melancholie