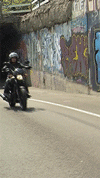 A
ssignment six
* negerend (wegens vermeend ontbreken van
teamplayerschap
mijnerzijds.
Sorry girls, for me being such a dick
) gelijk door naar
assignment seven
: produceer een vijf-tot-zeven-minuten 'documentaire' volgens vooropgestelde criteria.
*(ik-filmschool-je weet wel-oh ja)
En dàt, vrienden, was niet eenvoudig.
Want: wàt film ik? Wie film ik? Hoe kan ieder weldenkende mens filmmaker –ahum– een onderwerp voldoende uitdiepen in een tijdskader van slechts zeven minuten? Om van karakterontwikkeling maar te zwijgen. Omegod…
Het toeval wilde echter dat ik nét daarvoor, dankzij een werkelijk bril-jante slagzin, een 'prijsvraag' had gewonnen; een ritje op een, op dat moment nog te introduceren Harley-Davidson 750 Street.
Harley D.'s Country Manager, de heer Martin Mulder zag 't wel zitten, zelfs crappy promotie is promotie tenslotte, en dus kon het zomaar gebeuren dat mijn mevrouw en twee fellow students (hi guys!) ons op die mooie dag in juni bevonden in het altijd gezellige industriegebied van Delft om een documentaire te schieten.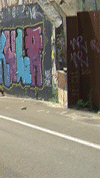 Ignoring assignment six* (due to an alleged lack of teamspirit on my part. Sorry girls, for me being such a dick) continuing on to assignment seven; produce a five-to-seven-minutes 'documentary' by predetermined criteria.
*(me-filmschool-you know-oh-yes)
And thàt, my friends, wasn't easy.
'Cause; whàt am I supposed to film? Who do I film? How can any sane person filmmaker –uhr– deepen a subject sufficiently in a time frame as such? Not to mention the character development. Oh, My God …
However, as it happened I did win -with a truly brilliant slogan– a 'contest' the other day; a testride on the yet to be introduced Harley-Davidson 750 Street.
Harley-D.'s Country Manager Mr Martin Mulder didn't mind, even crappy promotion is promotion after all, and so, on that beautiful afternoon in june, my misses, some of my fellow students (hi, guys!) and I went to that ever enjoyable industrial area of Delft to shoot a documentary.
Lees meer na de break ↓
Read more after the break ↓
Goed. Wat betreft de motor kan ik kort zijn; fijn dingetje maar meer iets voor meisjes. Een échte Harley hoort nou eenmaal 1000 cc of meer in haar schoot te verbergen. Alles daaronder voelt toch enigszins aan als een veredelde brommer.
Gelukkig voor de motorrijdende vrouw maakt dit modelleke het geluid van een naaimachientje en daarmee is de cirkel der rolbevestiging weer rond. 😂
Wat betreft het filmpje; zie boven. Niet helemaal geworden wat ik voor ogen had vanwege een hoog gehalte aan saai en ritmische fouten maar binnen de context van een chronisch tekort aan tijd dan wel edit-kennis is dit hét beste wat ik ervan kon maken.
Rest mij nog hen te bedanken zonder wie dit niet tot stand had kunnen komen; mijn 'mevrouw' (♥), Sam & Mo, Hans Scholtze voor die verdomd handige tips én, natuurlijk; dhr. Martin, Anna-Marie en Sharita van Harley-Davidson Benelux.
We had fun, guys. That's what counts! 😉
En het uiteindelijke cijfer? Een 9. Ach ja …
(Gelukkig hebben we de foto's nog. Laat dàt maar aan Woordeloos over.)
Well, in regard to the bike I can be short; nice thingy but more suitable for girls. A real Harley should have a 1000 cc's or more hidden in/between her loins. Everything else just feels somewhat like a glorified moped. Fortunately for you girls this model sounds like a sewing machine and this closes the circle of stereotyping 😂
As for the movie; watch it above. Not really what I had in mind (too boring, too many flaws) but considering the short timespan and the chronic lack of knowledge of editing I think this is thé best I could do.
Lastly I have to thank the guys 'nd girls without whom this wouldn't have been possible; my 'misses'(♥), Sam & Mo, Hans Scholtze for those dàmn helpful tips and, ofcourse; Mr Martin, Anna-Marie and Sharita of Harley-Davidson Benelux.
We had fun, guys. That's what counts! 😉
And the grade? A 9. Oh well…
(Thank God we still have the pictures. You can leave thàt to Woordeloos.)
– Forgive me my crappy English. I'm only human ya know 🤔 –
Beeld
Cool
Humor
Mea culpa
Op stap
Harley Davidson
750
assignment 7.
2014
filmschool
Assignment seven