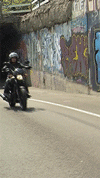 A
ssignment six
* negerend (wegens vermeend ontbreken van
teamplayerschap
mijnerzijds.
Sorry girls, for me being such a dick
) gelijk door naar
assignment seven
: produceer een vijf-tot-zeven-minuten 'documentaire' volgens vooropgestelde criteria.
*(ik-filmschool-je weet wel-oh ja)
En dàt, vrienden, was niet eenvoudig.
Want: wàt film ik? Wie film ik? Hoe kan ieder weldenkende mens filmmaker –ahum– een onderwerp voldoende uitdiepen in een tijdskader van slechts zeven minuten? Om van karakterontwikkeling maar te zwijgen. Omegod…
Het toeval wilde echter dat ik nét daarvoor, dankzij een werkelijk bril-jante slagzin, een 'prijsvraag' had gewonnen; een ritje op een, op dat moment nog te introduceren Harley-Davidson 750 Street.
Harley D.'s Country Manager, de heer Martin Mulder zag 't wel zitten, zelfs crappy promotie is promotie tenslotte, en dus kon het zomaar gebeuren dat mijn mevrouw en twee fellow students (hi guys!) ons op die mooie dag in juni bevonden in het altijd gezellige industriegebied van Delft om een documentaire te schieten.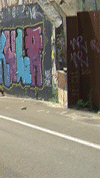 I
gnoring
assignment six
* (due to an alleged lack of
teamspirit
on my part.
Sorry girls, for me being such a dick
) continuing on to
assignment seve
n; produce a five-to-seven-minutes 'documentary' by predetermined criteria.
*(me-filmschool-you know-oh-yes)
And thàt, my friends, wasn't easy.
'Cause; whàt am I supposed to film? Who do I film? How can any sane person filmmaker –uhr– deepen a subject sufficiently in a time frame as such? Not to mention the character development. Oh, My God …
However, as it happened I did win -with a truly brilliant slogan– a 'contest' the other day; a testride on the yet to be introduced Harley-Davidson 750 Street.
Harley-D.'s Country Manager Mr Martin Mulder didn't mind, even crappy promotion is promotion after all, and so, on that beautiful afternoon in june, my misses, some of my fellow students (hi, guys!) and I went to that ever enjoyable industrial area of Delft to shoot a documentary.
Lees meer na de break ↓
Read more after the break ↓