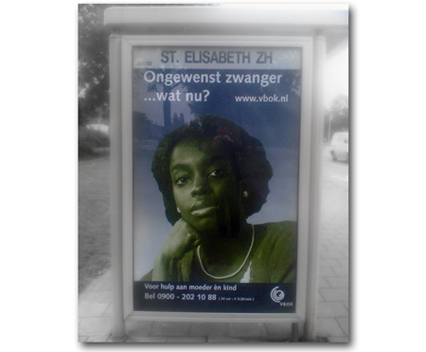 Zo her en der in de stad kom ik haar tegen. Op zo'n billboard. Zo'n kleintje. En elke keer als ik haar zie lijkt ze me meer vragen dan antwoorden op te leveren (voor de kijkert met een zwart/witscherm; de dame in kwestie is groen. G-a r-o-e-n. Pcies. Dat vroeg ik me ook al af…)
Want:
Waarom is zij groen? En waarom is zij een groene mevrouw met negroïde kenmerken? Is het wellicht een Kriptoniyaanse allochtoon, net als die andere gelukszoekert?
Is dat groen, in tegenstelling tot gewenst zwanger worden, het gevolg van onveilig vrijen? Een soort straf, zeg maar? ("Oh, kijk; groen! Onveilig gevreeën, jongedame?")
Is zij wellicht "The New & Emancipated Hulk"; rollmodel voor het hedendaagse hoerende-en-snoerende breezahsletje?
Is zij wellicht jaloers? Op mensen met een gewenste zwangerschap?
Of is zij slechts Incredible zwanger?
Of ben ik al die jaren voor het lapje gehouden ende in mijn ootje genomen en wordt je gewoon groen van zwanger-zijn?
In that case: *valtopznknieenendanktGoddeLieveHeervoorhetfeitdattiemanis*
Kortom; ik ben verward. Ongewenst Zwanger me reet. Ongewenst Groen lijkt me een betere typering.