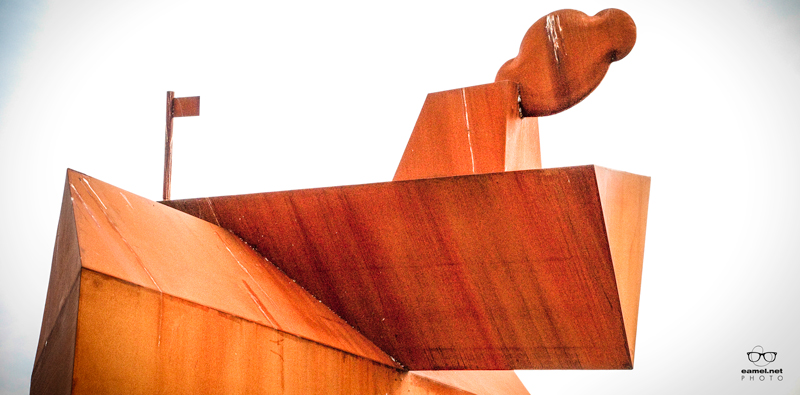 H
eb ik
de vorige keer
al mijn onbedwingbare drift tot het vereeuwigen van
A6 kunsdt
met jullie gedeeld; vandaag is daar het
'

Boothuis

'
aka
'Huis met Schip'
aan toegevoegd.
Zoals gewoonlijk was ik onderweg naar het Friesche en was 'm al een paar keer voorbij gereden, deze metalen doos met boot in dak dit stalen kundstwerk.
De symboliek laat zich makkelijk raden:
Noordoostpolder = voormalig water;
voormalig water = voormalige scheepvaart;
bladibla.
En of je dit soort kunsdt nu kunt waarderen of niet, feit is dat 't er staat en met den eamel deed lonken ("Fotografeer me! Fotografeer me!") En dat deed ik. (Voor ik weer twaalf jaar moet wachten)
Dus bij dezen: Het Boothuis aka Huis met Schip*
*Die vlinderige voospartij? Geen idee. Die lagen daar zo gezellig te in-betweenen dat ik 't gewoonweg niet kon laten deze vast te leggen… ;-D
Onderstaande filmpje kwam ik onlangs tegen bij
Omroep Flevoland
, waarin ene meneer
Jord den Hollander
beeldend
(woordspeling, RED.) kan vertellen over o.a.
'Het Boothuis/Huis Met Schip'
én
Kunst/Architectuur in de Flevolandse Openbare Ruimte
in het algemeen, en welke zij met graagte onvrijwillig hebben afgestaan.
Dank!