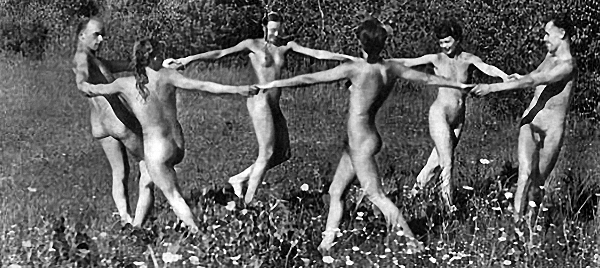 "When you're out there with a gentle breeze on you, every last hair on your body feels it. You feel completely connected with the natural world in a way you just can't in clothes."
Elk jaar weer een feestje. Daar kijken we hier naar uit, mevrouw en ik.
Deze betrekkelijk onbekende viering van de blote mens in zijn natuurlijke habitat is de Viering van Vrijheid.
Vrijheid van kiezen voor jezelf en voor datgene wat onze Lieve Heer je gegeven heeft -in al Zijn Glorie-; de natuur en jouw scrotum, hangend in een buxus.
Enfin.
En zo kon het zomaar gebeuren dat ik mij vanochtend opgewonden ontdeed van de lichaamsbedekkende lappen die kleding heten en de tuin intoog met niets dan een hoed op mijn hoofd en een hark in mijn handen.
De slippers zijn eigenlijk niet toegestaan maar niemand die dat controleert.
Wederom heb ik mij kostelijk vermaakt. De Spaanse Margrieten, de Hedera, de Treurwilg en de waterplantjes; het was alsof wij met andere ogen naar elkander keken; blijer, onschuldiger, oprechter.
Alsof de Geraniums, in tegenstelling tot de andere dagen, het geen bezwaar vonden ontdaan te worden van inmiddels bruingeworden blaadjes.
Uren later gleed ik moe maar tevreden onderuit in een stoel en keek ontroerd om mij heen; de tinteling van het zachte briesje door de drie- en zestig negentien dertien haren op mijn borstpartij, de voorzichtige regendruppen op mijn voorhuid hoofd, de maagdelijke lenteblaadjes van de versgeknipte Petunia's al kietelend aan mijn rectum billen. Ik weende.
En Hij? Hij Zag Dat Het Goed Was.
"Wie aan Hem toebehoort, heeft zijn eigen natuur met alle hartstocht en begeerte in aan z'n kruis geslagen."
– Galaten 5:13-6:18
Amen.